Regular price
Sale price
$46.00 USD
Unit price
per
Sale
Sold out
High Protein cereal that's perfect for mornings or whenever a high-protein healthy snack is needed. Try our Fruity cereal with a burst of fruity flavor coloured with natural ingredients such as beet root, turmeric and spiruilna powders. 
 
·       High Protein Cereal that doesn't compromise on taste: Protein power your breakfast with TRUELY Cereal — we make our cereal with high-quality whey protein that tastes just like those nostalgic cereals you grew up with, only without the sugars and synthetic ingredients.
·       The Perfect High Protein Cereal For Athletes: Athletes across all sports and pursuits require high intakes of protein to support muscle growth, recovery and overall wellness. TRUELY Cereal is a high-protein cereal that supplies 15g of protein per serving with only 130 calories, so you can hit your protein goals without overshooting your calories. Our cereal seamlessly fits into your diet plan as it's convenient, delicious, heavy on protein and light on sugar, fat and calories.
·       TRUELY cereal is made with high-quality Whey Protein. No Soy Protein, Wheat Protein, Pea Protein or other lower-quality, cheaper options ensure the full spectrum of essential amino acids is present.
. TRUELY cereal contains no added sugar, artificial sweeteners or artificial colours.
·       Our cereal is gluten-free, low carb and keto-friendly, so you can enjoy a bowl of high protein cereal that is easy on your digestive system and light on carbohydrates, making it the perfect "I need protein, but don't know what to eat" snack.
·       The base for our cereal is Whey Protein and rice starch which gives it a clean taste and doesn't require ten minutes of brushing to get unstuck from your teeth.
Ingredients: Milk protein concentrate, High oleic sunflower oil, Erythritol, Chicory root fibre, Monk fruit juice concentrate, Tapioca starch, Natural flavours, Spirulina extract, Turmeric, beet root, Himalayan pink salt, Stevia extract.
Share
View full details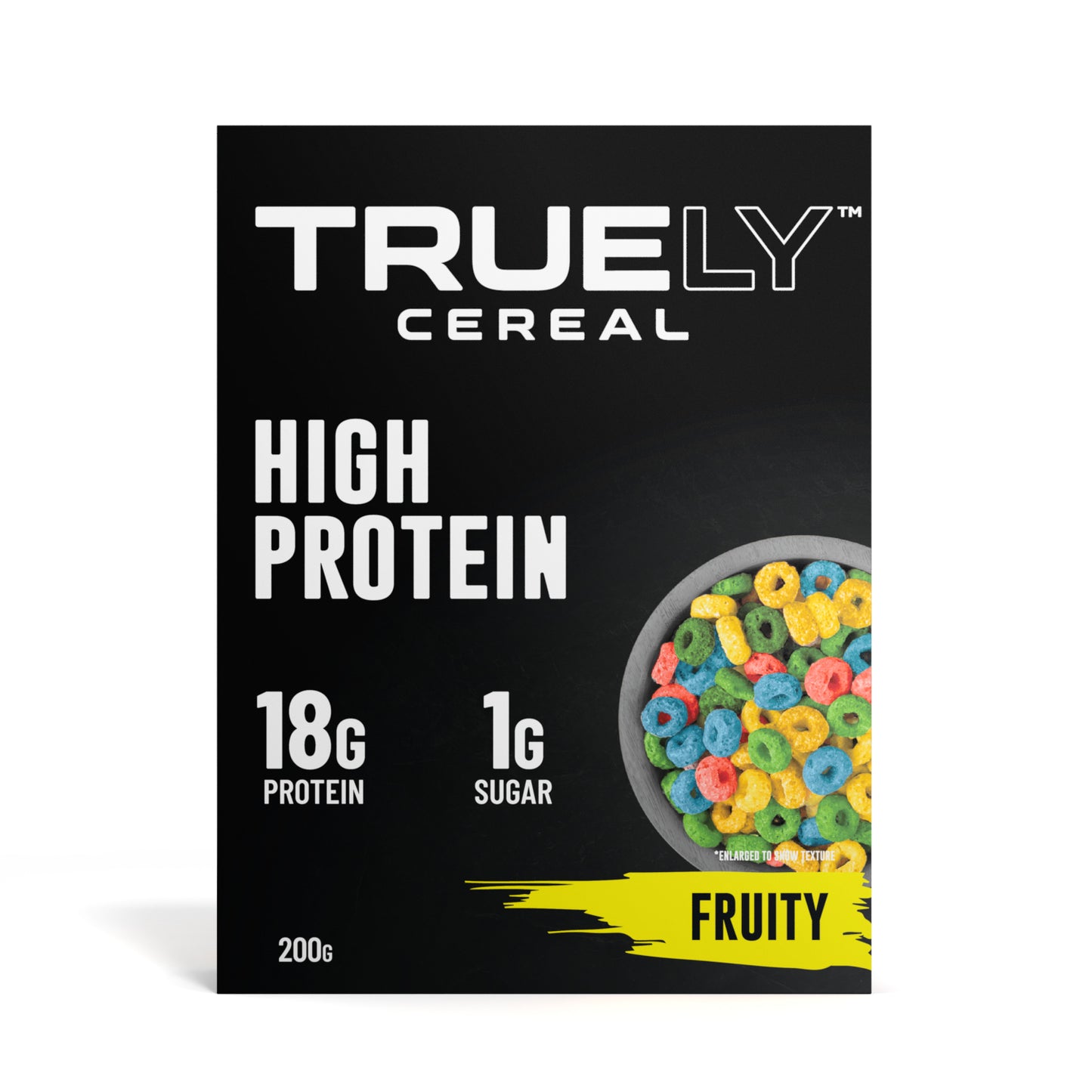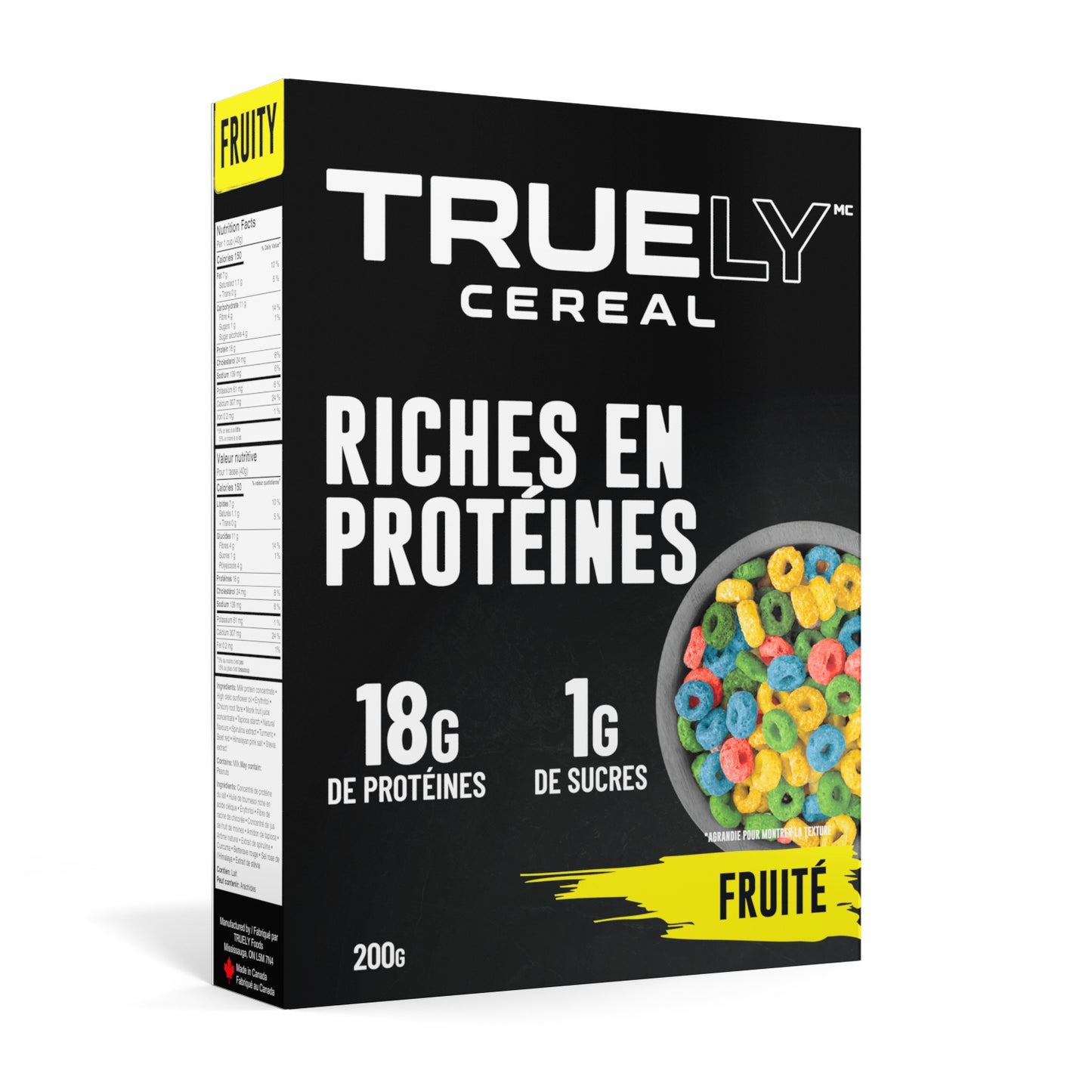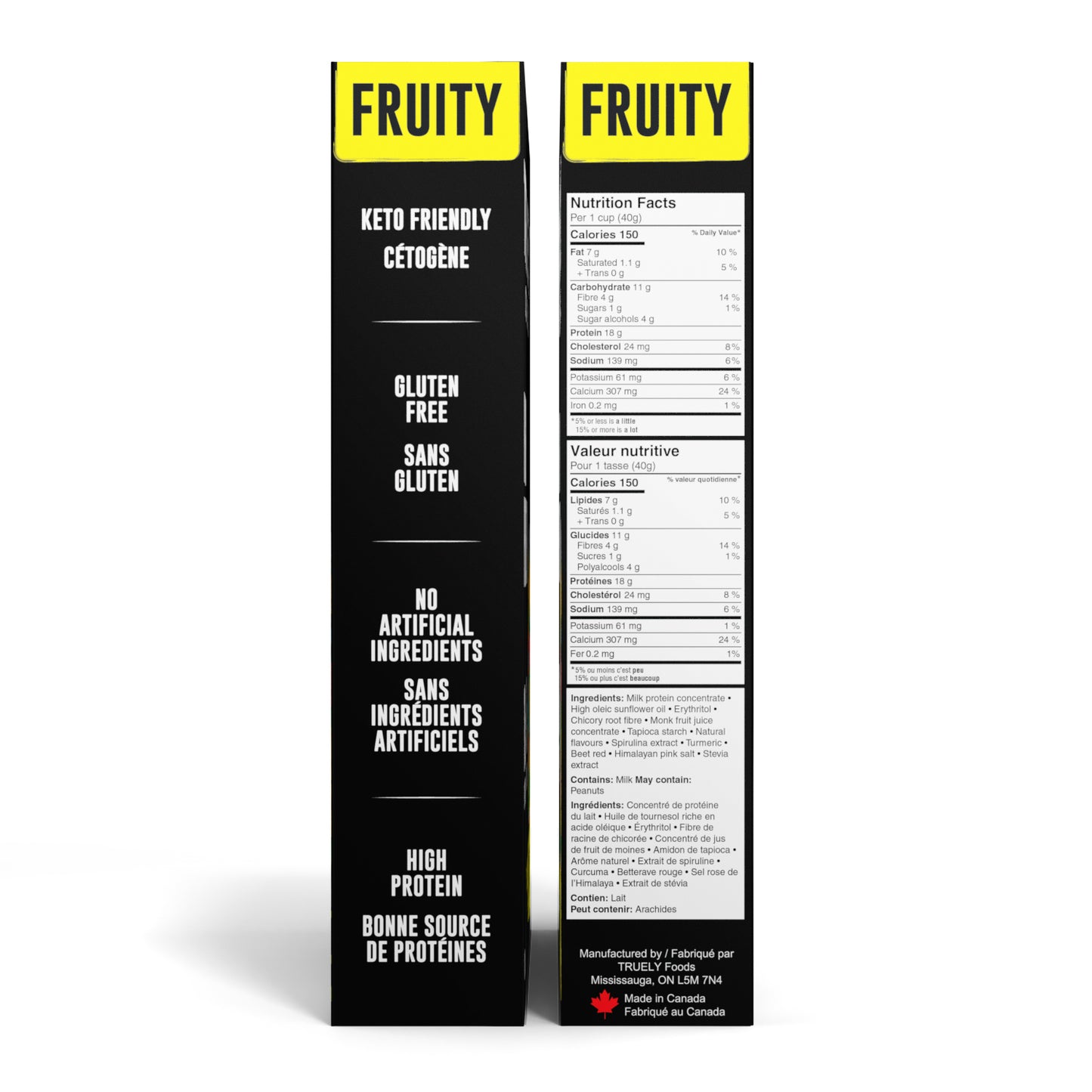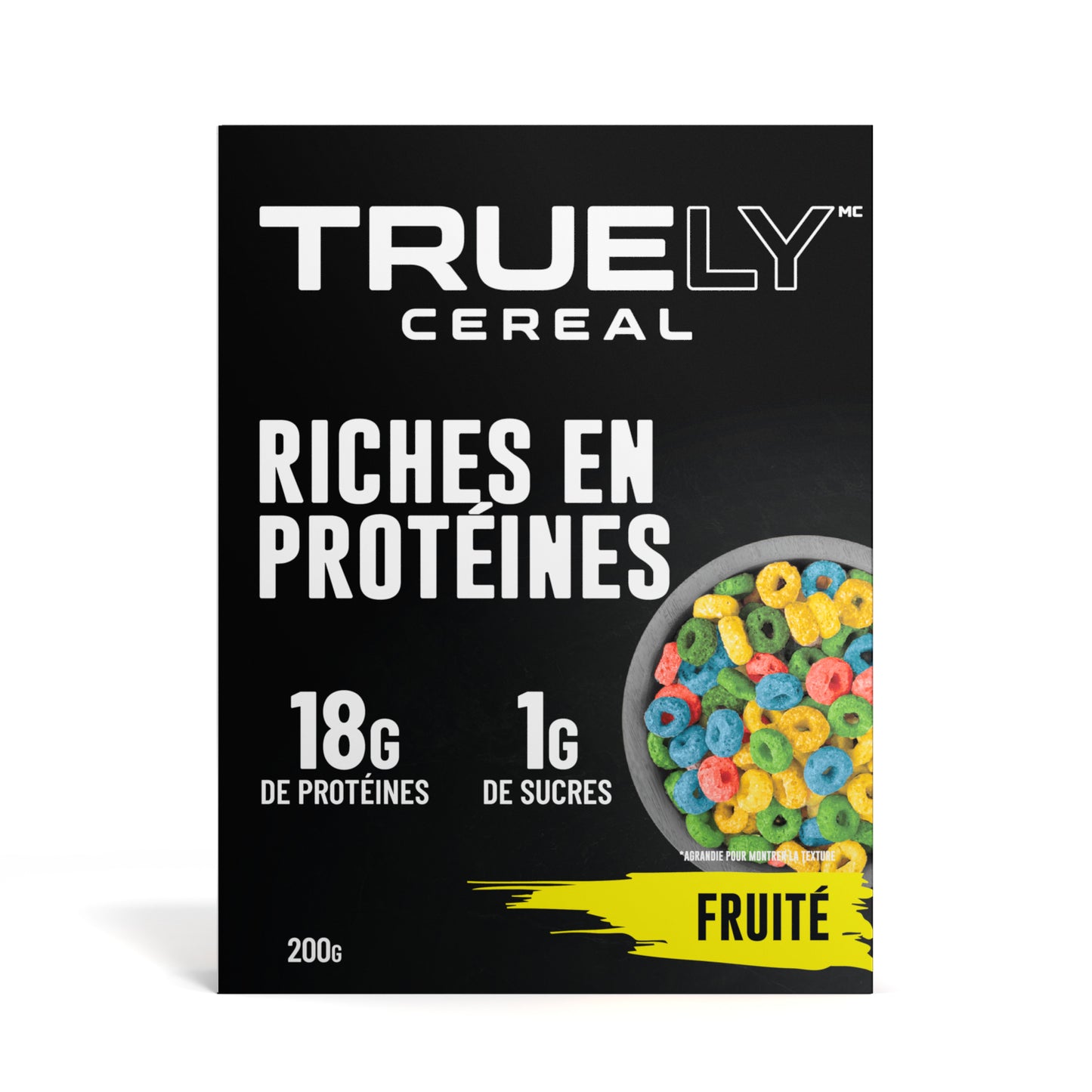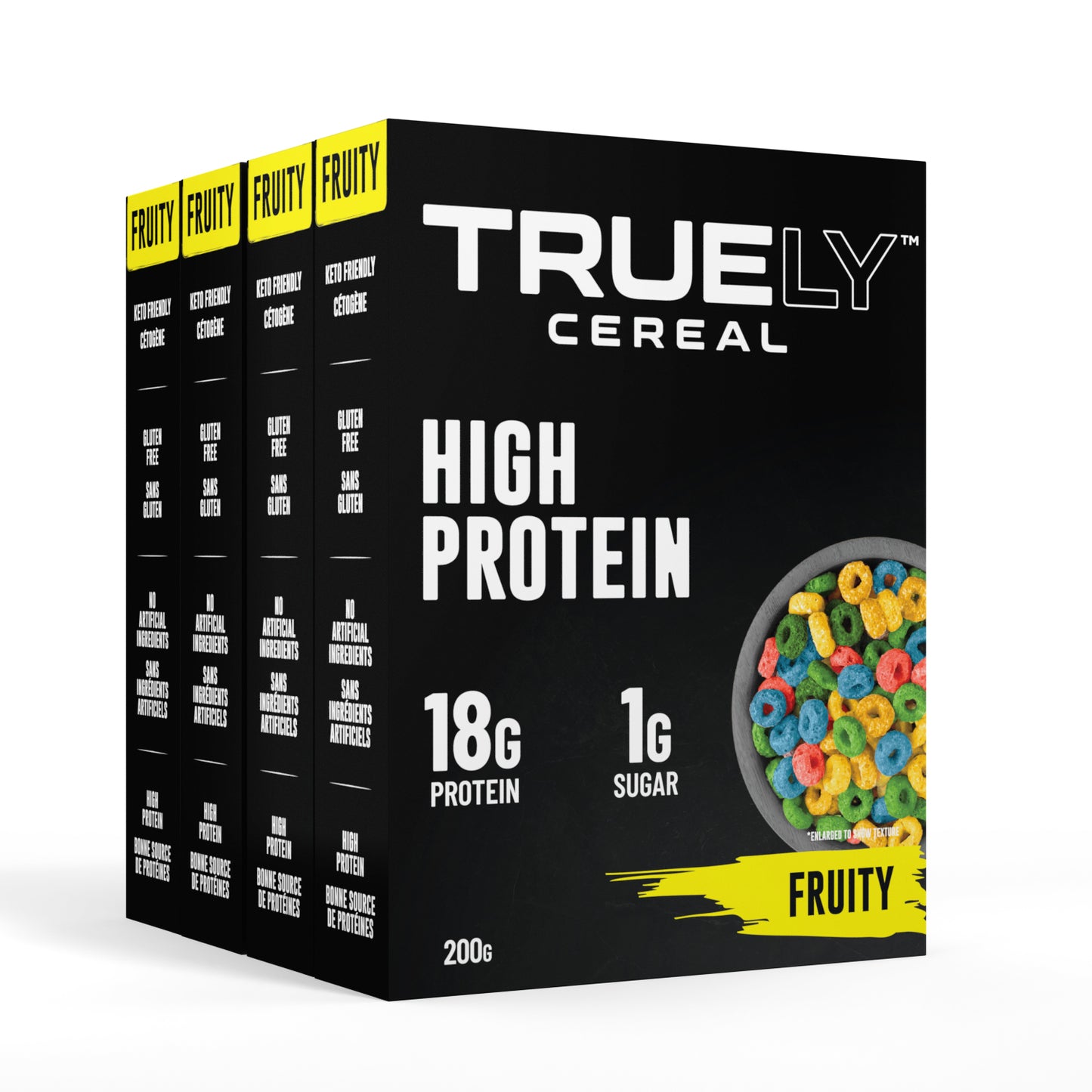 Worth every penny
The shipping was super quick and the cereals amazing! It's like high protein fruit loops without the sugar so 10/10 recommend and I'm excited to try the other flavors out.
Great cereal
The cerial is amazing. It tastes great and I buy it all the time
Fruity Cereal that's not chockfull of sugar
Overall the cereal is better than other protein cereals I have had. The fruity flavour could have been a bit stronger, in my opinion. The cereal does leave a strange aftertaste in your mouth – if the flavour was stronger, it might overpower that. All in all, still very good – particularly in comparison to other brands.
Excellent
Tasty. It has a nicer texture than Magic Spoon and it's Canadian, which is a bonus in my books. One star off for price gouging. I know you have to pay for quality but I can do arithmetic.
As good as real cereal
It was really delicious like real cereal but without the sugar, I taste the fruity one and I recommend it just a little expensive