Regular price
Sale price
$46.00 USD
Unit price
per
Sale
Sold out
High Protein cereal that's perfect for mornings or whenever a high-protein healthy snack is needed. Now you can try all of our 4 flavours in a single package. We also heard that mixing all flavours creates an amazing cereal eating experience.
 
·       High Protein Cereal that doesn't compromise on taste: Protein power your breakfast with TRUELY Cereal — we make our cereal with high-quality whey protein that tastes just like those nostalgic cereals you grew up with, only without the sugars and synthetic ingredients.
·       The Perfect High Protein Cereal For Athletes: Athletes across all sports and pursuits require high intakes of protein to support muscle growth, recovery and overall wellness. TRUELY Cereal is a high-protein cereal that supplies 15g - 16g of protein per serving with only 120 - 130  calories (depending on the flavour), so you can hit your protein goals without overshooting your calories. Our cereal seamlessly fits into your diet plan as it's convenient, delicious, heavy on protein and light on sugar, fat and calories.
·       TRUELY cereal is made with high-quality Whey Protein. No Soy Protein, Wheat Protein, Pea Protein or other lower-quality, cheaper options ensure the full spectrum of essential amino acids is present.
. TRUELY cereal contains no added sugar, artificial sweeteners or artificial colours.
·       Our cereal is gluten-free, low carb and keto-friendly, so you can enjoy a bowl of high protein cereal that is easy on your digestive system and light on carbohydrates, making it the perfect "I need protein, but don't know what to eat" snack.
·       The base for our cereal is Whey Protein and rice starch which gives it a clean taste and doesn't require ten minutes of brushing to get unstuck from your teeth.
Share
View full details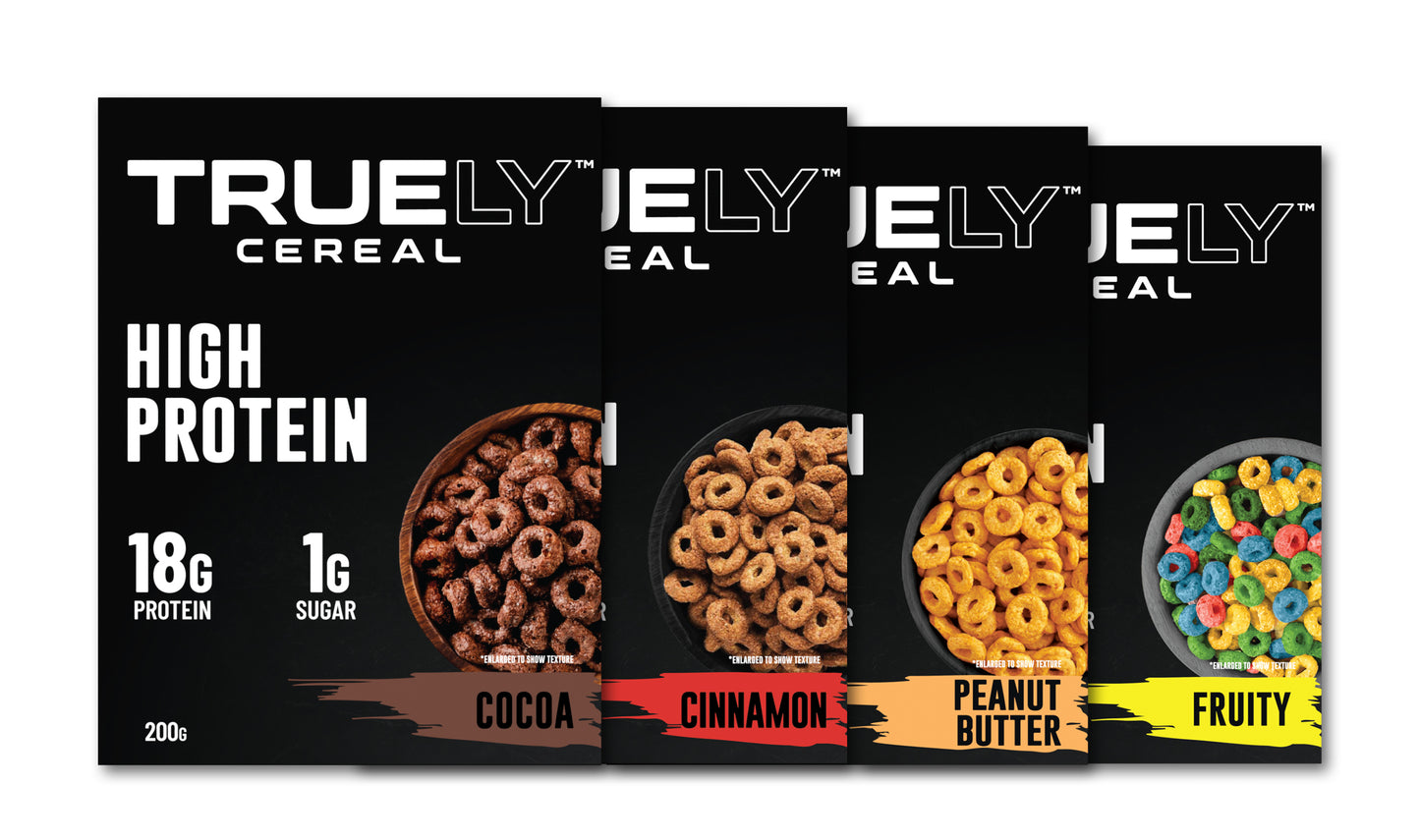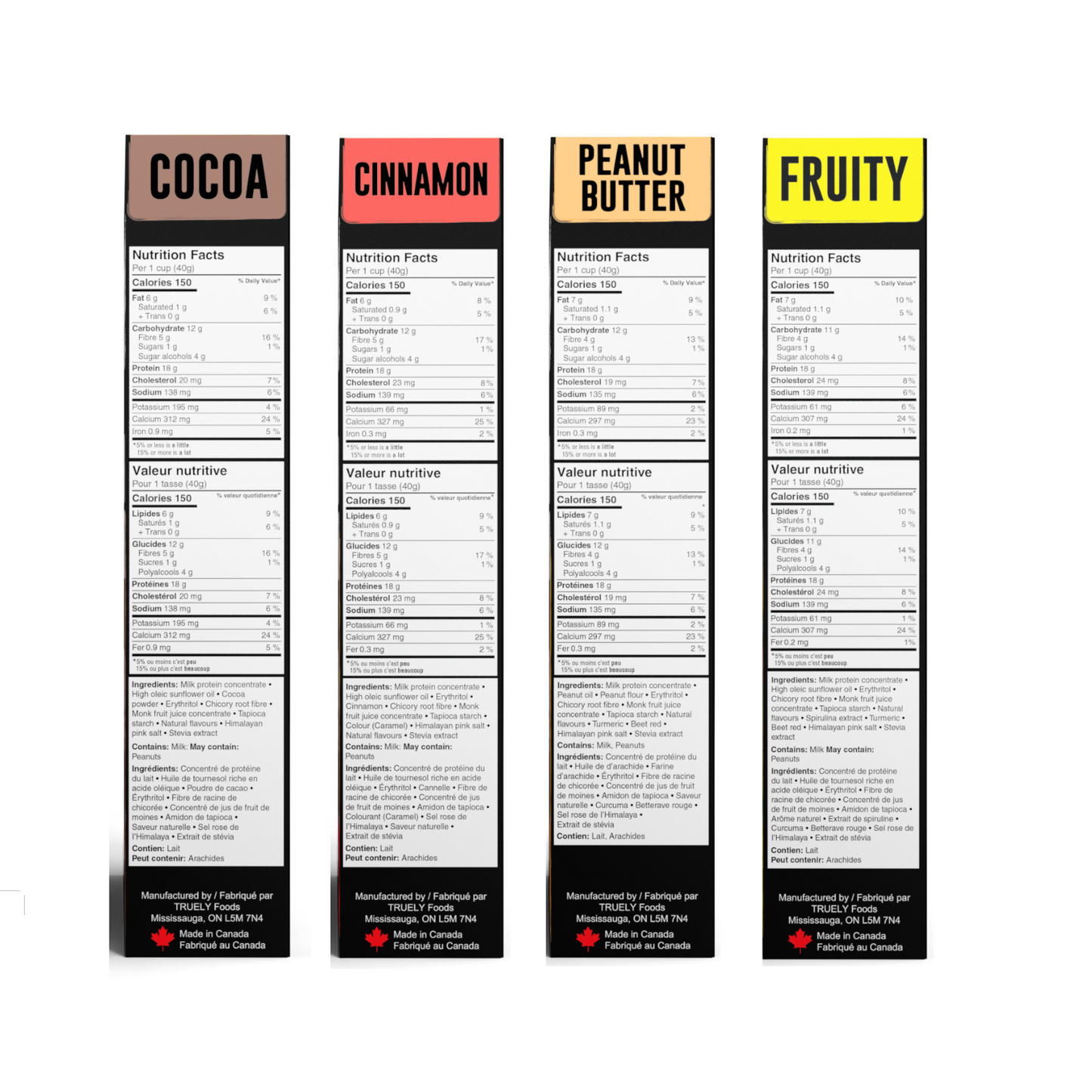 Great Flavour
This ceral is perfect! I was looking for a keto friendly cereal that I could just grab and go on the days I couldn't make myself a meal, and this has been great. I was worried when I saw reviews of people complaining about the taste and the texture, but the cereal is very flavourful and the texture is different than cherrios or fruitloops but it isn't bad, it's nice and crunchy! Definetly will be looking into purchasing more once I'm finished.
Absolutely disgusting
Absolutely disgusting and ridiculously priced!!!
Torn
My family is torn on how we feel about this cereal. We love the protein content and the flavours are highly palatable, but we're not happy with the high oleic sunflower oil as the research states seed oils are incredibly harmful and is the one of the causes of harmful inflammation and insulin resistance. We will be trying the Farm Girl cereals to see how they compare as they do not use seed oils.
Tastes just like kids cereal
All 4 flavours taste great and a big plus is that they dont stick to your teeth after chewing unlike another popular brand (magic spoon).
Quite good!
Fruity is the best, as other said chocolate needs some work - will be buying again.